Commercial + Industrial Roofing Portfolio
McKenzie Law Office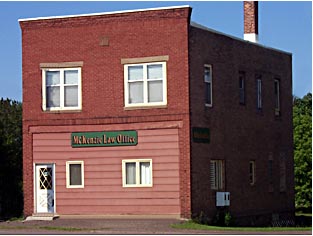 108 South Moore Street
Bessemer, MI 49911
906-667-4771
Project Description
In 2000, Nasi Roofing was hired to install a white Duro-Last roofing system over the existing tar and felt paper roof. One layer of two inch polyisocyanurate insulation was installed over the existing roofing system, adding a long-term r-value of 12.1 to the existing roof. The increased r-value reduced the heat loss and ice build-up on the roof.
Customer Testimonial
"After one winter's use, I am pleased with our new roof. Nasi Roofing did an excellent job of installing and providing timely and professional service. Thank you for your services. I would not hesitate to recommend Nasi Roofing to others interested in obtaining a Duro-Last roofing system."
James D. McKenzie
Attorney at Law