Commercial + Industrial Roofing Portfolio
Foster and Smith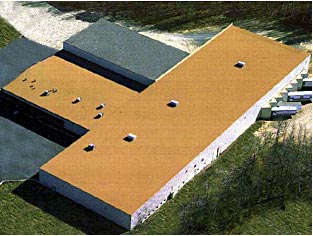 2253 Air Park Road
Rhinelander, WI 54501
715-369-3305
Project Description
In 1995 Nasi Roofing put it's first Duro-Last roofing system on Foster and Smith over it's exiting standing seam roof. In 1998, Foster and Smith had a 100,000 square foot addition built by Nasi Roofing along with a new Duro-Last roof. Again in 2003, a new 60,000 square foot addition was constructed by Nasi Roofing with a Duro-Last roof.
Year Installed
2014
Approximate Square Footage
7800
Insulation
3" ISO
Roof System
40 Mil Tan Mechanically Fastened 15 Year NDL Warranty
Customer Testimonial
"We had a standing seam metal roof panel on our building with fiberglass insulation over purlins; having a heat loss problem and tropical condensation water problem throughout the building work area. At our first appointment, we were shown a video, our building measured, and a filler insulation panel designed to fit the form of the existing panel. Then a second layer of insulation was installed, and the Duro-Last roofing system over that. So far, we have not had leaks or condensation water problems, plus our heating is much more efficient."
Robert Leonhard
Project and Maintenance Manager