Commercial + Industrial Roofing Portfolio
The Daily Telegram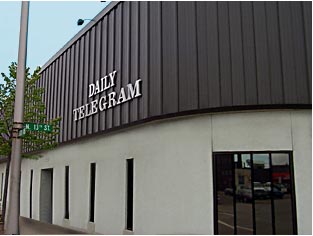 1226 Ogden Avenue
Superior, WI 54880
715-394-4411
Project Description
In 2001, Nasi Roofing was contracted to install a 16,500 square foot Duro-Last roofing system. There were two different roofing systems on the building: a traditional standing seam section and a section where the standing seam was sprayed with a foam coating. Specially cut three inch EPS polystyrene insulation fillers were laid in between the standing seam ribs, and a layer of fan fold insulation was installed over both sections to create a flat surface for the new Duro-Last roofing system. The increased r-value reduced the heat loss and ice build-up on the roof.
Customer Testimonial
"We are very pleased with both the quality of the job and the speed of installation. Nasi Roofing's employees were very cooperative and helpful as the project moved to completion."
Marlin Hofmeyer
General Manager