Commercial + Industrial Roofing Portfolio
Nor-Lake, Inc.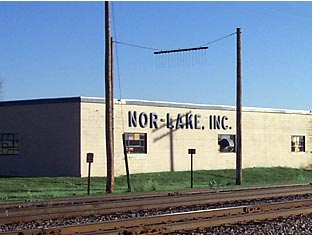 Second and Elm Streets
Hudson, WI 54016
715-386-2323
Project Description
In 1996, 1997, and 2000 Nasi Roofing installed two inches of insulation board and a new Duro-Last roofing system over the existing roofing system on 200,000 square feet of Nor-Lake's manufacturing facility. In 1999, Nor-Lake's main office building had developed some leaks. A new custom prefabricated Duro-Last roofing system was installed over a half inch of insulation and the existing roof. The increased r-value reduced the heat loss and ice build-up on the roof.
Customer Testimonial
"I wanted to take this opportunity to thank the Nasi Roofing for a job well done. Our new Duro-Last roof was completed ahead of schedule. The crew was prompt, attentive, and very professional during the entire installation process, even with the significant distance the crew traveled. Everyone arrived on our job site every morning and on time. Everything was very well organized right from day one. Any concerns we had during installation were addressed expediently. We are very pleased with the job and certainly would welcome the opportunity to recommend your roofing company to others installing this roofing system."
Peter S. Keller
Manufacturing Engineer