Metal Building Roofing Portfolio
Sedlak Chevrolet, Buick, and Pontiac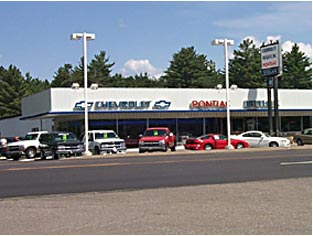 Highway 51 South
Minocqua, WI 54548
715-356-3262
Project Description
Nasi Roofing was hired four straight years to install the Duro-Last roofing system over the existing metal roof. Custom cut EPS insulation strips were installed in-between the metal ribs, and a layer of half inch, high density board was installed over the insulation strips and metal ribs before the Duro-Last membrane was installed. The project started in 1994 and was completed in 1997.
Customer Testimonial
"We appreciated Nasi Roofings prompt and excellent service. I would recommend both Nasi Roofing and the Duro-Last roofing system to anyone in the market for a new roof."
Dick Sedlak
Business Manager