Educational + Governmental Roofing Portfolio
Saint Mary's Catholic School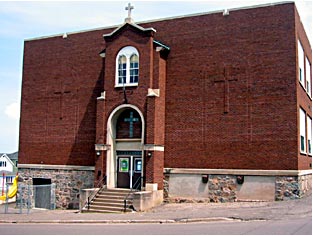 404 Iron Street
Hurley, WI 54534
715-561-2606
Project Description
In 2000, Nasi Roofing was hired to install a new Duro-Last roofing system. The new custom prefabricated Duro-Last roofing system was installed over the insulation and existing roof. All pipes, chimneys, vents, and flashing were pre-measured, and ordered to fit. This reduced the amount of field seams, allowing the roof to be installed quickly and a high level of quality maintained. Upon Completion the roofing system was inspected by a Duro-Last Roofing Technical Representative, and a 15 Year No Dollar Limit (NDL) Warranty was provided. This warranty is transferable, and has no exclusions for ponding water, and provides coverage against consequential damages that result from defects in the Duro-Last Material and/or installation workmanship. Duro-Last also has 20 year warranties available.
Customer Testimonial
"Overall, I believe Terry, Tom, and your entire firm have done an outstanding job on this project. The pride of workmanship is evident throughout the church and I know Fr. Lynch and the parish community are very pleased with the result. I also appreciated the good co-operation and practical suggestions which helped make this a smooth building program. As you well know, trying to add on to and remodel an eighty year old building can be a real challenge. Nasi Roofing did an excellent job of meeting that challenge."
John Spalding, AIA
Professional Management Services, Inc.