Educational + Governmental Roofing Portfolio
Nativity of Our Lord School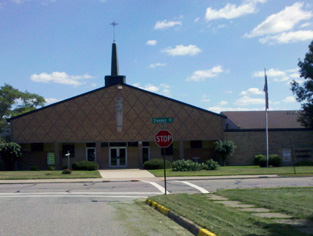 1360 N. Stevens Street
Rhinelander, WI 54501
715-362-3366
Project Description
In 2011 the new custom prefabricated Duro-Last Roofing System was installed. All pipes, chimneys, vents, and flashing were pre-measured, and ordered to fit. This reduced the amount of field seams that had to be done, allowing the roof to be installed quickly and a high level of quality to be maintained. Upon completion a 15 Year Manufacturers Material and Labor Warranty was provided.
Customer Testimonial
"Thank you for the quality job your company performed at our school. When I started this job in May of 2010 I was confronted with buckets in classrooms, stained walls, ruined ceilings and slippery floors whenever it rained or a spring snow melt. Nasi Roofing LLC replaced the roof over a sizeable area of the school and the problems and buckets are gone. Nasi Roofing worked with our schedule, came when they said they would, and finished right on schedule. Follow up service was outstanding. I would recommend Nasi Roofing for any roofing job."
Pat Monroe
Maintenance Supervisor, Nativity Parish