Commercial + Industrial Roofing Portfolio
Our Lady of Peace Catholic Church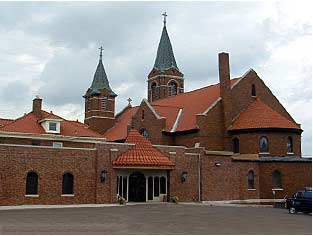 108 South Marquette Street
Ironwood, MI 49938
906-932-0174
Project Description
In 2013 Nasi Roofing completed another project for the church. Over 16,000 square feet of Duro-Last roofing system has been installed on the church and school.
Architect
Customer Testimonial
"We have had the wonderful opportunity to employ the services of Nasi Roofing. In my opinion, Nasi Roofing is reliable, prompt and conscientious about their work. Their work has always been of superior quality. I have always found their staff and workers knowledgeable, skilled, courteous and efficient. And if any problem arises, the owner himself, Mr. Wayne Nasi, gets involved. When we have called them to handle a matter, no matter how large or small, they have responded promptly, with expertise and they have seen the job through to the end."
Darryl Pepin
Pastor