Commercial + Industrial Roofing Portfolio
Engstrom Funeral Home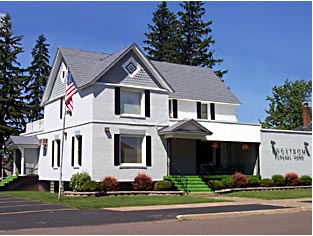 210 Maple Street
Hurley, WI 54534
715-561-2510
Project Description
In 2001, a new Duro-Last roofing system was installed with two layers of 1 1/2" polyisocyanurate insulation over the existing roof. The increased r-value reduced the heat loss and ice build-up on the roof.
Customer Testimonial
"Thank you and your crew very much for the fine Duro-Last Roof job at Engstrom Funeral Home in Hurley. I would highly recommend you and your roofing company to anyone seeking a high quality roof installation and roof product. Our McKevitt-Patrick Home in Ironwood also is covered with the Duro-Last product, and I am also very satisfied with its' performance. Thank you again for the fine service"
Mike Patrick
Owner