Commercial + Industrial Roofing Portfolio
Superior Ice Arena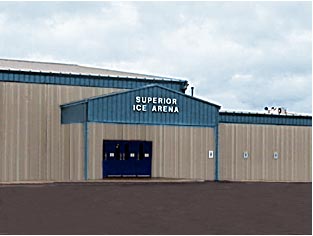 1015 Oakes Avenue
Superior, WI 54880
715-394-4899
Project Description
In 2002, Nasi Roofing installed a Duro-Last roofing system. Specially cut, three inch standing seam metal ribs were installed inside the metal ribs, and a layer of insulation was installed to create a flat surface for the new Duro-Last roofing system. The increased r-value reduced the heat loss and ice build-up on the roof. Duro-Last parapet flashing was installed up the adjoining walls and because the Duro-Last roof is mechanically fastened, the membrane will move with the building's expansion and contraction.
Customer Testimonial
"Feel free to add us to your reference list. I am very pleased with the results of the installation."
John Hack
Arena Manager