Advantages and Disadvantages of Different Commercial Roofing Systems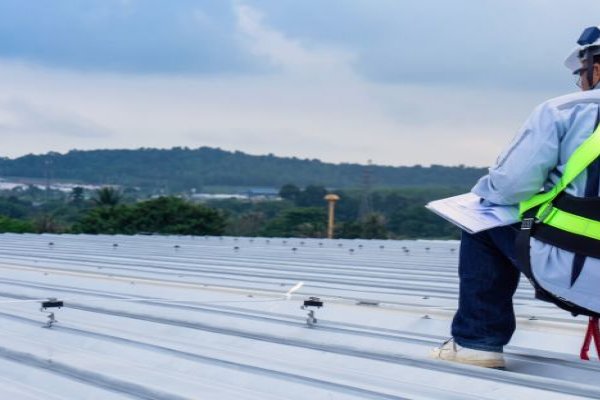 When it's time to replace your commercial roofing system, how do you decide what's best for your building?
With the many types of different commercial roofing systems, it can be a challenge for property owners to find the right commercial roof for their building. Constructing a new commercial building means you have to make more decisions on the type of roof you want.
Flat, sloped, and pitched roofs are the most common types of commercial roofs you will find. Each one has its set of pros and cons to consider. When it comes to the unpredictable midwestern weather, you want to make sure you know you're protected.
Here's a breakdown of the advantages and disadvantages of the different commercial roofing systems.
Two Common Roof Styles: Flat and Sloped
Before digging into roofing materials, roof styles are important to think about for any roof in need of a replacement or those building new. It creates an aesthetic for the building, but they also serve different purposes and have factors that need consideration.
The Flat Roof
The most common and cost-effective commercial roofs are flat roofs as they use fewer materials and are faster to install. You can choose from almost any roofing material for a flat roof, such as PVC, built-up, and rubber rolled roofing.
You can also move solar panels and air conditioning units on the roof and a flat roof is easy and safe to maintain.
The main disadvantage of a flat roof is inadequate drainage. If you choose a flat roof, make sure you invest in a reliable contractor, quality materials, and keep up the maintenance.
The Low-Sloped Roof
Low-sloped roofs are commonly found in warehouses, apartments, and other commercial buildings. It may look flat at first, but there's a slight slope that helps direct water off the roof.
They provide a safe workspace for installation and maintenance and you can move air conditioning units and solar panels to the roof. You can choose from many of the same roofing materials as the flat roof.
The disadvantage of a low-sloped roof is snow can build up and add extra weight to your roof. If choosing a sloped roof, make sure your contractor carefully follows the building codes regarding low-sloped roofs.
Roofing Materials: Advantages & Disadvantages to Consider
The following are the most popular roofing systems you can find for your commercial property. Consider what you need in your roof and look at the different features in order to find the perfect fit.
The most important part of a commercial roofing system are the materials it's made from. Here are the most popular choices from the most economical options to the highest-quality.
TPO Roofs
TPO, or thermoplastic polyolefin, is a cost-effective roofing option first introduced in the mid-1980s. It's a single-ply material that's a very common roofing option for commercial buildings.
Advantages
It's easy to install and its flexibility allows it to move and stretch with your building throughout the seasons.
TPO comes in light colors that reflect light and improve energy efficiency.
Disadvantages
The main disadvantage of TPO is its longevity. It hasn't been on the market as long as other building materials causing some people to question how long it will hold up and stay durable for a roof.
EPDM Roofs
Ethylene propylene diene monomer (EPDM) is a durable rubber-based roofing membrane. This commercial roofing system is most common on flat and low-sloped roofs, but it's flexibility allows it to fit most types of roofs.
Advantages
Having been on the market for over 60 years, EPDM has a reliable track record and a long lifespan of 15-25 years. The rubber membrane stands up to all weather elements and is flexible to stretch with the building.
EPDM doesn't come with insulation, which allows you to choose the type of roofing insulation you would like for your building.
Disadvantages
EPDM may shrink and tear in hot weather. Exposure to UV rays can degrade the adhesive tape which causes leaks and water to flow under the rubber membrane. Proper installation, maintenance, and repairs are necessary to ensure a long-lasting EPDM roof.
PVC Roofs
Polyvinyl chloride or PVC membrane became popular about 50 years ago and continues to grow in popularity.
PVC is recyclable and eco-friendly making it a great option for buildings looking to go green.
PVC is a single-ply membrane that is durable, flexible, and resists industrial spills and byproducts.
Advantages
PVC is extremely durable and resistant to mold and mildew, but is also fire retardant.
Rather than melt and burn like other single-ply membranes, Duro-Last PVC works to smother and extinguish the flames. PVC also comes in light colors to improve year-round energy efficiency.
Disadvantages
Must be purchased and installed by a certified contractor, not available at lumber yards or distribution outlets.
Metal Roofs
These durable and affordable commercial roofing systems are great options for those looking to re-roof an older roof. Metal retrofitted roofs are easy to install and extend the life of your metal roof.
Advantages
Retrofitting fits over your existing metal roof which allows you to keep your current roof insulations. During installation, you can continue business as normal since the old roof will protect you and your business. Retrofitting reuses exiting materials making it an eco-friendly roofing option.
Disadvantages
Adding or changing roof top equipment can be very difficult, and costly.
Asphalt Roofs
Asphalt commercial roofing systems are durable, reliable, and long-lasting. Unlike the single-ply roofs above, asphalt roofs require several layers for weather-proofing, reinforcement, and protection.
There are 2 main types of asphalt roofs: Build-Up Roofing (BUR) and Modified Bitumen Systems (MBS).
Advantages
Asphalt roofs offer great reliability and protection at a reasonable cost. The multiple layers of both BUR and MBS roofs offer UV/fire protection, easy maintenance, and many material options.
MBS is a great option for all climates due to its strength and flexibility. BUR resists foot traffic and water along with normal wear and tear. It also has great insulation for improved energy efficiency.
Disadvantages
Asphalt installation is tricky and requires specialized equipment. If you choose an asphalt roof, find a contractor who specializes in asphalt roofs.
Commercial Roofing Systems: Next Steps
Whether you need a new roof or are looking to retrofit an existing one, we have the commercial roofing systems to fit your needs.
We'll help you find the best option for your budget and business.
Give us a call and we'll get started on finding the best roofing system for your commercial building.