How to Budget for a New Roof: Your Complete Guide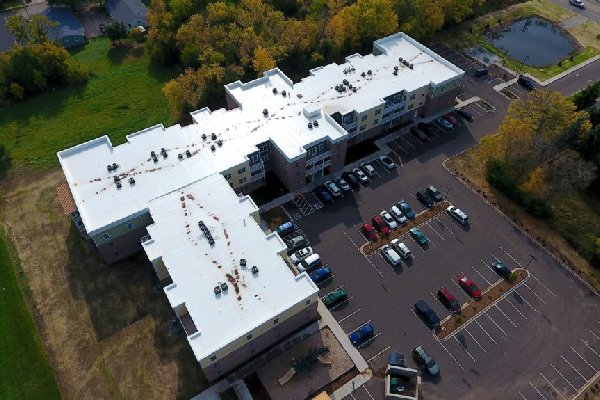 We know just how important your business is to you. From customer service to increased sales, there are many aspects that bring success to your business. However, your business' roof should be just as important as all of the inside aspects.
If your building's roof isn't properly maintained and replaced when needed, you could be forced to put out quite a bit of money for unnecessary damages. Avoid this altogether by learning how to budget for a new roof. Have a budgeting plan in place ahead of time and you'll save yourself both money and stress.
Continue reading below for our guide on how to budget for your commercial building's new roof!
Have an Inspection Done
The first thing you'll want to do is have an inspection done by a professional roofing technician. This is the only way to truly know if your roof is in need of full replacement or a repair. This is especially true for roofs that are 10 years old and older.
You'll want to ensure that your roof is replaced when needed. Spending money on repairs to a roof that needs replacement is money down the drain. A professional will be able to determine your roof's condition.
Gather a Free Estimate
After having an inspection done, you'll also want to gather a free estimate. This is the best source of information for what to expect for your new roof. Your free estimate will calculate the work that needs to be done, the materials that'll be used, and how many hours of labor it'll take.
It's usually a good rule of thumb to get several estimates before making a final decision. Keep in mind that just because a company offers you the lowest rate, doesn't mean that that company is the best choice. You'll want to stick with a company that offers competitive rates with the proper license and insurance who is willing to take the time to explain the estimate to you.
Know the Material
Now you'll need to decide on the roofing material that you want to use. This has an impact on the price of the roof's replacement. There are several choices to choose from, so you'll want to ensure that you select the right material for your commercial building.
Duro-Last roofs have become increasingly popular among many commercial buildings. These prefabricated roofs are made with durability, precision, energy efficiency, and convenience in mind. These roofs are backed by the industry's best warranties and are an optimal choice!
Set Up an Outline
Your next step is to set up an outline. Your outline should include all of the factors to consider when planning your roof's replacement budget. These factors are as follows:
Contractor and permits
Roof's size and pitch
building structure
debris removal
The estimate given
These factors all need to be taken into consideration when determining the right budget for the replacement. Remember, the estimate is just that, an estimate. It's a great starting point, but you don't want to base your savings plan completely on that number alone.
Create a Savings Plan
Now that you have a general outline of what to expect from the replacement, it's time to create a savings plan. This is when you'll start crunching the numbers. You have the average cost from your outline.
Take this number and add 10% for unexpected costs and inflation. Once you have this number, divide it by the number of months that you want to save for. The best way to have as little surprises as possible is to speak with your roofing contractor about potential areas of concern.
Planning ahead by about 2 or 3 years is the best way to save up the total amount of money needed to replace the roof over time.
Have Routine Maintenance Done
In the meantime, it's always advised that you do everything you can to properly maintain your building's roof. Have debris removed regularly as allowing this to build up causes growth of mildew, causes a place for creatures to call home, and causes water to build up as well.
You should also have general inspections and repairs completed. This is a great way to ensure that the roof is in great condition at all times. Doing so will add years to the roof's lifespan.
Aside from the roof itself, you'll also need to check the gutters, downspouts, fascia, and soffits for any mold or debris.
Hire a Reliable Roofing Contractor
The last step in budgeting for your roof replacement is to hire a reliable roofing contractor. Your roofing contractor should be highly-experienced and licensed and insured. They should be upfront with you about the budget and commit to an agreed-upon cost.
Once you find the right roofing contractor for you, you should always keep open communication with them. Ask them any questions that you may have about any of the services that they're completing. Discuss scheduling with them and ensure that they have the proper permits to install your new roof.
Installing Your New Roof with the Right Roofing Contractor
Your business' roof is just as important as all of the things that take place underneath it. So when it's time to select a new roof for your commercial building, don't settle for just any roofing contractor. Here at NASI Roofing, we provide free estimates, free roof inspections, free long-term budgeting, free bid packets, and much more.
Contact us today to schedule your free inspection!