How Long Does a Commercial Flat Roof Last?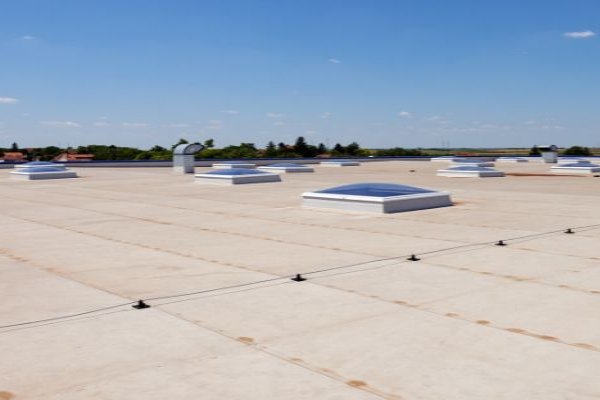 Your roof is one of, if not the most important, part of your building. Eventually, every roof reaches the end of its life expectancy, and you'll need to replace it. The question is, how long do commercial flat roofs last? Often, this depends on the material used to make the roof and how well you care for it. Read on to learn more about commercial roof life expectancy and factors impacting your commercial roof.
Life of Commerical Roofs
So, how long do commercial flat roofs last? Typically, a commercial roof lasts around 20 to 30 years, though this span can be shorter or longer. The life span varies depending on the material used for the roofing system. The most common roofing materials used for flat/low slope roofs include Polyvinyl Chloride (PVC), Thermoplastic Polyolefin (TPO), & Ethylene Propylene Diene Monomer (EPDM). All of these roofing systems can be fully adhered, or mechanically fastened.
Pro Tip
When deciding on a material, consider using a design professional, or an experienced roofing contractor with an excellent track record. Not only is the membrane you choose important, but what is under it is equally important. Type of insulation, R-Value, and cover board options can reduce energy consumption and help extend the life of the roof. Buy a roofing system that suits the design of your business and offers years of coverage. A poor-quality roofing system will decrease your return on investment, and take away time that you could be better spent on your business or personal life.
Custom Fabrication – Duro-Last PVC Roofing Systems can be custom sized to your roof, reducing field seams where most roofing systems have future failures.
Appearance – PVC Roofing Systems come in a variety of colors.
Schedule – Mechanically Fastened roofing systems can be installed year round with no temperature restrictions, unlike fully adhered systems.
Sustainability – Mechanically Fastened PVC roofing systems are Recyclable. https://www.youtube.com/watch?v=lCk8_nIcxaU&feature=youtu.be
Factors Impacting a Commerical Roof
Various factors can lower a roof's life expectancy, such as failing to maintain it and harsh weather. No matter what material your roof is, both of these factors can cause damage, and without a repair, you may need to hire roof replacement contractors sooner than expected.
Lack of Maintenance
Caring for your roof and following the suggested maintenance schedule is the best way to make anything last. To keep your roof in great condition, do the following tasks:
Get it inspected twice a year
Keep the gutters clean
Remove snow
Make repairs right away
Following these responsibilities helps you spot and reduce any damage. For instance, during a bi-annual inspection, the roofer may notice damage to the gutters or other vital areas. You can schedule a repair with them so the problem doesn't snowball.
Weather Conditions
Severe storms or weather conditions can damage the roof, and there isn't much you can do to prevent it. However, you can reduce the risk of further damage by hiring a professional to inspect the area once the storm clears. A roofing professional can determine whether you need a repair to keep the roof structurally sound.
Hire Commercial Roofing Contractors
Nasi Roofing is a commercial company in Wisconsin and Michigan since 1983. Thanks to our years of expertise, we can perform a commercial roof inspection, repair, or replace your roof. Contact Nasi Roofing for the best service at competitive prices.